ThaiLand
​1. Profile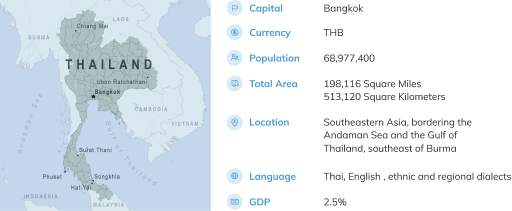 2. Economy & Industry

With a relatively well-developed infrastructure, a free-enterprise economy, and generally pro-investment policies, Thailand is highly dependent on international trade, with exports accounting for about 2/3 of GDP.
Thailand's economic fundamentals are sound, with low inflation, low unemployment, and reasonable public and external debt levels. Tourism and government spending - mostly on infrastructure and short-term stimulus measures – have helped to boost the economy, and The Bank of Thailand has been supportive with several interest rate reductions.
Industry:
The country is largest producer of natural rubber in the world and one of the leading producers and exporters of rice; besides sugar, corn, jute, cotton and tobacco.
Fishing constitutes an important activity as Thailand is a major exporter of farmed shrimp. However, agriculture's contribution to the GDP is declining, while the exports of goods and services have increased.
The main Thai industries are electronics, steel and automotive. Electrical components and appliances, computers, cement production, furniture are also important sectors.
Source: import-export.societegenerale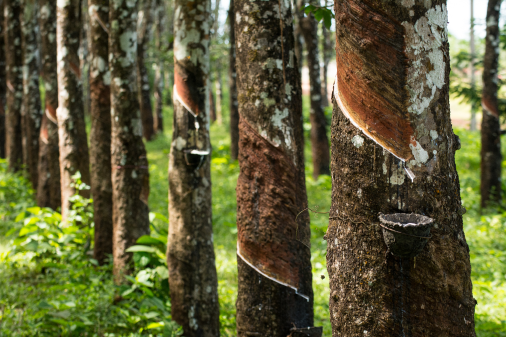 Foreign direct investment is an important element of Thailand's economic development, and the country is one of the major FDI destinations in its region. Manufacturing and financial and insurance activities attract nearly 70% of all FDI inflows. Investments in real estate, commerce and information and communication are also considerable.
Japan and Singapore are by far the largest investors in the country. Hong Kong, the USA, the Netherlands, China, and Mauritius are major investors.
Source: UNCTAD's World Investment Report
• Major Exports: computers, office machine parts, transistors, rubber, vehicles, plastic, seafood
Top Export Partners: US, Japan, Singapore, Hong Kong, China
• Major Imports: capital goods, intermediate goods and raw materials, consumer goods, fuels
Top Import Partners: Japan, US, China, Malaysia, Singapore
Source: www.countryreports.org


5. Infrastructure in Cambodia:
Road Transport ​

Thailand has the necessary basic infrastructure in the form of well-connected roads and highway networks across the country.
Thailand has an important strategic advantage regarding roadway services, connecting to Myanmar in the north and west, Laos in the northeast, Cambodia in the east, and Malaysia in the south. Transportation and logistics from Thailand to southern China is also possible via these neighboring countries, particularly Lao PDR and Myanmar. The trade routes and border points are generally in good condition.
​

Railway Freight Transport
The State Railway of Thailand (SRT) operates all of Thailand's national rail lines. Bangkok Railway Station is the main terminus of all routes. Phahonyothin and ICD Lat Krabang are the main freight terminals.
Thailand has an estimated 4,180 km of rail tracks that connect 46 provinces but around 90% of that is single track. In order to improve rail transport efficiency, Thailand plans to invest in a number of double tracking projects.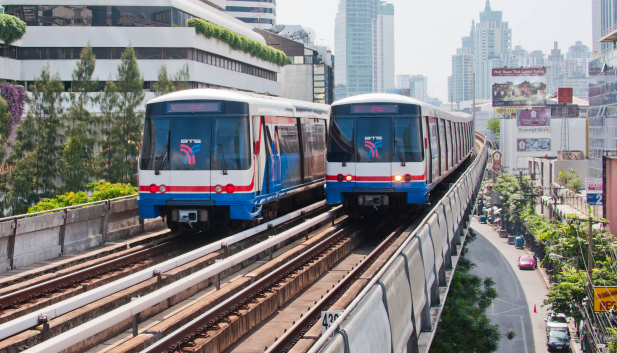 ​

Train bound for Battambang at Phnom Penh Railway station in Phnom Penh, Cambodia
Waterways Transport
Sea transport remains the key to Thailand's international trading activities and its volume is increasing on a year-to-year basis. Thailand has a coastline of 3,148 km with over 4,000 km of waterways. The main international ports in Thailand that are operated by the government are as follows: Bangkok, Laem Chabang, Map Ta Phut, Ranong, Phuket, Songkhla, Sattahip, and Si Racha.
Laem Chabang Port is the largest freight transport port in Thailand. The port's link to the port of Seattle helps reduce cargos handling and checking processes at ports in the US.
There are two international waterway ports, namely, Chiang Saen Port and Chiang Khong Port, both located in the Chiang Rai Province. The Chiang Saen is usually used for transporting both conventional and container cargo. Chiang Khong Port is specifically used for international freight transport.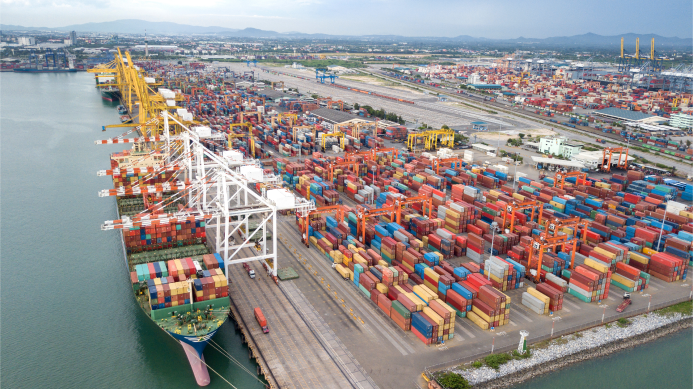 Landscape from bird eye view for Laem chabang logistic port
Air Transport
Thailand has a well-developed aviation sector that meets the demands of both domestic and international passengers, as well as facilitating other logistical movements. The country was not only a popular tourist destination but also a hub for exhibitions and conferences. This called for development in the air passenger transport industry.
Thailand currently has 35 airports and 31 air freight operators.. Don Mueang is a major hub for international travel in Thailand. Other notable airports in Thailand include Phuket International airport, Chiang Mai International Airport & Chiang Rai International Airport.
Reference from: www.statista.com