Viet Nam
​

1. Profile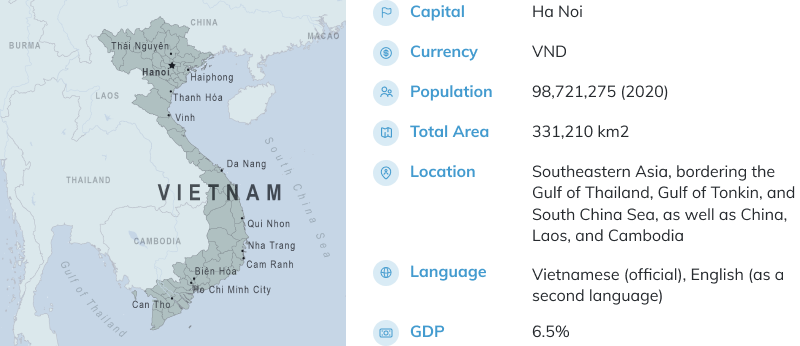 2. Economy & Industry
Vietnam now is one of the most dynamic emerging countries in the East Asia region. Due to strong integration with global trade, Vietnam's economy has been severely affected by the COVID-19, but has shown remarkable resilience, minimized the damage & become Asia's shining star during the pandemic.


Following that, the macro-economic remains resilient with an estimated GDP growth rate of 2.8% for the year 2020 (World Bank). The IMF is predicting a strong economic recovery in 2021.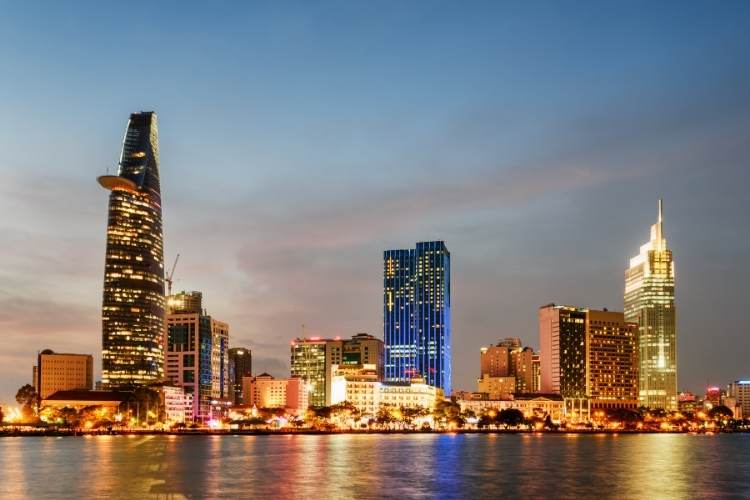 Main sectors of industry
Vietnam's economy is based on large state-owned industries such as textiles, food, furniture, plastics, and paper as well as tourism and telecommunications. With a growing number of companies are shifting from China to Vietnam, the demand for warehousing and road transportation services increase rapidly.
Breakdown of Economy By Sector

Agriculture

Industry

Services

Employment by Sector

(in % of Total Employment)

36.2

28.4

35.4

Value Added (in % of GDP)

14

34.5

41.6

Value Added (Annual % Change)

2

8.9

7.3
Source: World Bank, 2020


3. FDI Attraction
Vietnam's business and investment environment has been improving in line with international standards. The field those foreign investors consider is the manufacturing & processing industry. South Korea was the largest source of FDI, following by Japan, Singapore, Taiwan and Hong Kong.

The current explosion in e-commerce in Vietnam should also present opportunities, especially for companies interested in last-mile delivery and value-added distribution services.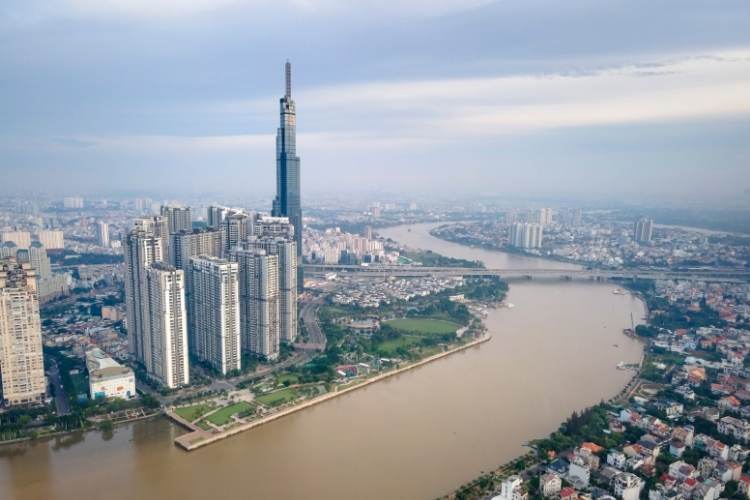 4. Export & Import:
The top exports of Vietnam are Broadcasting equipment, telephones, integrated circuits, Textile footwear & leather footwear, mostly to United States, China, Japan & South Korea. In 2019, Vietnam was the world's biggest exporter of coconuts, brazil nuts, and cashews.

The top imports of Vietnam are Integrated Circuits, Telephone, refined Petroleum, Light Rubberized Knitted Fabric, mostly from China, South Korea & Japan. In 2019, Vietnam was the world's biggest importer of light rubberized knitted fabric, synthetic filament yarn woven fabric & coconuts.

5. Logistics Infrastructure:

Vietnam's transport infrastructure is expanding rapidly. As a coastal country with extensive river systems, the maritime infrastructure is well-developed & steadily improving.

5.1 Seaports
Vietnam has 44 seaports with a total capacity of 470-500 million tons per year. The major ports in Vietnam include Hai Phong, Da Nang, Qui Nhon, and Ho Chi Minh City. However, Vietnam has a number of smaller ports as well, which takes the total number of ports in the country up to 320.


Northern Vietnam
Northern Vietnam has become a hub for the electronics, automobiles and machinery sectors. Hai Phong and Vung Ang are major ports for international container traffic. In 2018, Tan Cang Hai Phong International Container Terminal (TC-HICT) - the largest deep-water port here opened. It can provide direct services to America and Europe for Vietnam exports and imports; shorten the lead time of 03-05 days & reduce logistics costs and risks. 

Central Vietnam
The major ports in Central Vietnam are the Quy Nhon and Da Nang ports. In addition, the region has nine minor ports as well.
Da Nang port: handles the majority of the traffic in the central region, which links Vietnam to Myanmar, Thailand, and Laos. The city's infrastructure is developing rapidly as it has become a hub for high-tech industries.
Quy Nhon port: is mostly used for transporting goods from Mekong Delta and western Vietnam, along with transhipping goods heading for Cambodia.


In addition, Chu Lai port has many potential developments to become a major transit point for trade & logistics together with strong investment into Quang Nam province.
Southern Vietnam
 Ho Chi Minh City area consists of a network of ports around with the Saigon port currently the 26th biggest world container port and the 5th biggest in ASEAN.  Ports in Ho Chi Minh City are the main gateway for the region, accounting for 67% of the total throughput of all Vietnamese ports.
The Cai Mep-Thi Vai Port:​ is a deep-water port that handles goods for Dong Nai and Binh Duong, which are major production centers in the region, and is popular on routes to the US and EU because of its deep-water capabilities. 
Cat Lai Port

is one of the biggest and most modern container terminals in Vietnam, handles goods for Binh Duong, Ba Ria-Vung Tau, Dong Nai, and Ho Chi Minh City. Cat Lai is primarily used mainly on Asian routes, but because Cat Lai is not a deep-water port there are higher transshipment costs.
​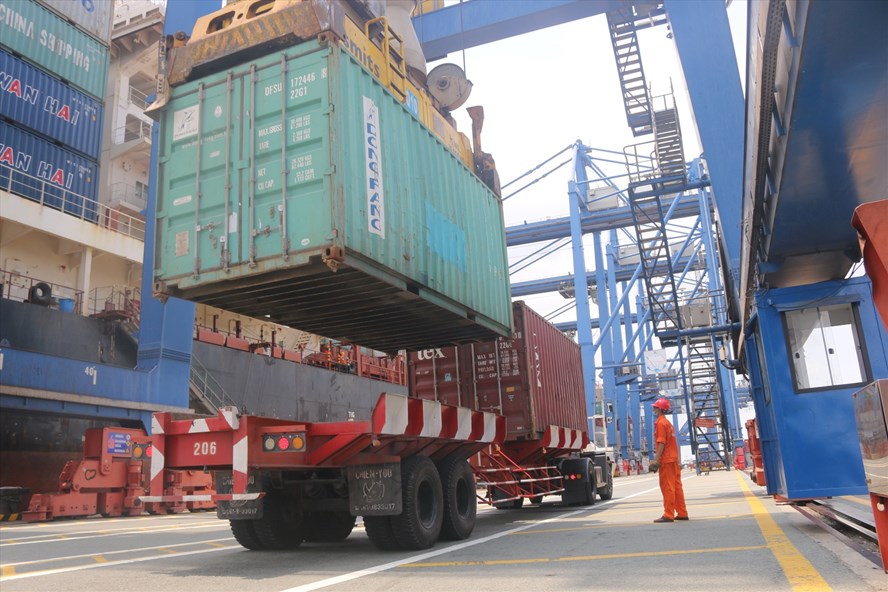 5.2 Aviation Infrastructure:
Vietnam has 22 airports, of which 11 are international and 11 are domestic. The total designed capacity of Vietnam airports is approximately 96 million passengers/ year. The Government has set key priorities for airport infrastructure investment from now till 2030 by investing in the construction of 6 new airports and upgrading most tourism hub airports.
Tan Son Nhat International Airport, Noi Bai International Airport , and Da Nang International Airport are the major gateways, handling most international flights.
5.3 Road Infrastructure

Transportation in Vietnam is improving rapidly in terms of both quantity and quality.  In recent years, the construction of expressways has accelerated. Metro systems are under construction in the two metropolises of Vietnam, Hanoi and Ho Chi Minh City. The total length of the country road system is about 222.179 km with 19,0% paved. The road haulage sector will outperform over the next several years, benefiting from the ongoing development of Vietnam as a regional manufacturing hub.
>> Read more on VICO research about Vietnam market at: Link
VICO Logistics presence in Vietnam
VICO Logistics is proud to be a premium partner of many prestigious logistics associations in Vietnam such as Eurocham, JCtrans, Ziegler One, VLA, VCCI,...
How this will benefit our customers:
🤝Supply the best and the most effective logistics method.
🤝Competitive prices specialized in Asia countries.
🤝Maximum time and cash saving for customers.
🤝Advantageous payment method.
🤝Dedicated and caring service.
Through more than 30 years experiences in our focused markets under "Cooperation for mutual development" philosophy, VICO Logistics has built close connections with strategic shipping partners to serve all of your needs.