Laos
Laos Country Profile
1. Profile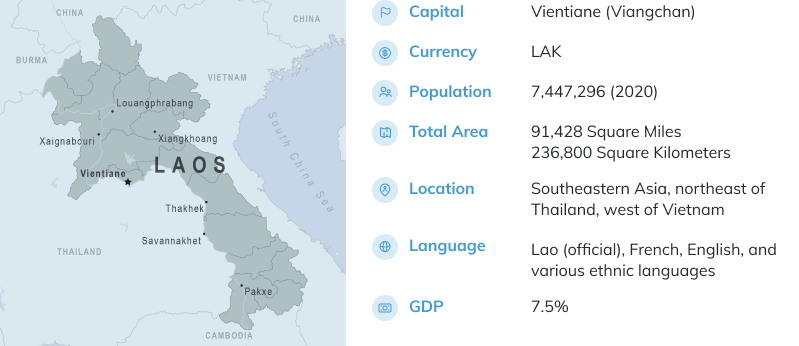 2. Economy & Industry
Laos' economy is heavily dependent on capital-intensive natural resource exports. The economy has benefited from high-profile foreign direct investment in hydropower dams along the Mekong River, copper and gold mining, logging, and construction.
Economic growth averaged more than 6% per year in the period 1988-2008, and Laos' growth has more recently been amongst the fastest in Asia, averaging more than 7% per year for most of the last decade.
Main sectors of industry: tin and gypsum mining, timber, electric power, agricultural processing, construction, garments, tourism. Agriculture accounts for about 20% of GDP and 73% of total employment.
3. FDI Attraction
| | | | |
| --- | --- | --- | --- |
| Foreign Direct Investment​ | 2017 | 2018 | 2019 |
| FDI Inward Flow (million USD) | 1,686 | 1,320 | 557 |
| FDI Stock (million USD) | 8,054.60 | 9,374.20 | 9,931.40 |
| Number of Greenfield Investments* | 7 | 18 | 6 |
| Value of Greenfield Investments (million USD) | 483 | 2,231 | 533​ |
​Source: UNCTAD - Latest available data

Projects in the areas of hydraulic energy production and the exploitation of mining resources represent around 80% of the foreign investment accumulated over the last ten years. Transportation infrastructure, tourism, and large agroforestry projects are also attracting new investors.

The main investing countries in Laos are large neighbors such as China, Thailand, and Vietnam, but also France and Japan.
4. Export & Import:
Laos's Top Exports in 2019:
• Mineral fuels, mineral oils, bituminous substances; mineral waxes
• Ores, slag and ash


Laos's Top Imports in 2019:
• Mineral fuels, mineral oils, bituminous substances; mineral waxes


Data Source from trendeconomy.com
5. Infrastructure:
Laos remains a country with an underdeveloped infrastructure, particularly in rural areas. It has a basic, but improving, road system, and limited external and internal land-line telecommunications. Electricity is available to 83% of the population.

Telecommunication as an infrastructure in Laos is slowly gaining momentum. Laos has seen countless reforms and progress of telecommunications as an infrastructure to draw the attention of foreign investors.
In 2017, infrastructure in Laos continued to improve. The World Bank signed a $25 million agreement to stabilize roads through maintenance. The new Lao PDR Road Sector II Project is part of the country's national program to build climate-resilient roads and infrastructure.